Center for Religion & the Human at IU launches new award for books about science, religion, and nature
The Center for Religion & the Human, established at IU Bloomington in 2019, has granted its first Iris Award, a new book prize created to honor outstanding work offering new insights into the meaning of being human in relation to science, religion, and nature.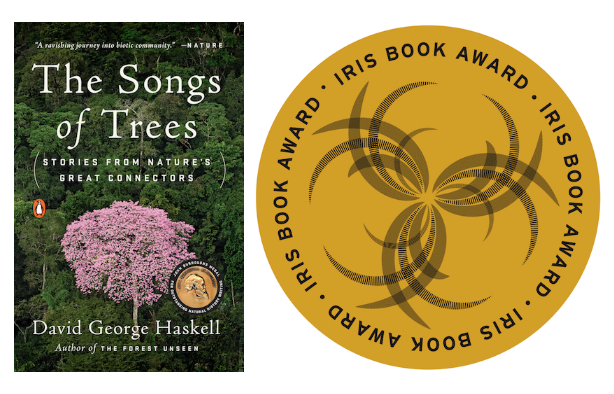 The award-winning book is The Songs of Trees: Stories from Nature's Great Connectors by David George Haskell. The book also won a John Burroughs Medal for Distinguished Nature Writing and was chosen as a Best Science Books of 2017 by NPR's Science Friday.
Books considered for the award are nominated by scholars working in areas of science, nature, religion, and technology and by academic and popular presses.
Jurors for the Iris Award called The Songs of Trees "a compelling example of poetic science" that "beautifully illustrates the interconnections … of particular trees around the world, weaving together scientific knowledge about them and their relationships to the rest of the natural world including humans."
Haskell is a professor of biology at University of the South in Sewanee, Tenn., and also author of The Forest Unseen, a finalist for the 2013 Pulitzer Prize in nonfiction. Haskell will be invited to an award ceremony, reading, and discussion organized around his prize-winning book and related themes.
The Iris Award is one of several initiatives supported by a $1 million grant from the Henry Luce Foundation that led to the establishment of the Center for Religion and the Human, which is directed by Winnifred Fallers Sullivan, Provost Professor of religious studies in the College of Arts + Sciences at IU Bloomington, and Associate Director Lisa Sideris, professor in the same department. Constance Furey, professor and chair of the Department of Religious Studies, is also a co-principal investigator on the Luce Foundation grant.
The center's mission is to foster collaborative explorations and scholarship around topics associated with what it means to be human in a world undergoing increasingly rapid social, cultural, and political change.
"The Iris Award uniquely honors scholarship that transcends categories of nature writing, science writing, or scholarship on religion or spirituality," Lisa Sideris said. "TheSongsofTrees stood out among dozens of contenders for its timely discussion of the human-nature relationship, as captured in our intimate and ancient relationship with trees, for its thorough grasp of scientific literature, and for its unusual eloquence."